About Wefco Rubber
Wefco Rubber Manufacturing Co., Inc. was established over 60 years ago to fill a niche in the industrial rubber business. This niche is the short run, quick turn around environment so necessary in today's business world.



The Wefco Rubber Sales Department is open from 7:00 AM to 4:00 PM PST, Monday through Friday, except on national holidays. Parts that are in stock will be shipped the same day they are ordered, or, per your shipping schedule. There are several ways to order:
By Phone
Dial 818.886.8872 between 7:00 AM and 4:00 PM PST and speak to one of our experienced sales representatives.

By Fax
Dial 818.886.8875 and fax all relevant ordering information to our direct fax line.

By E-Mail
E-Mail your order to sales@wefcorubber.com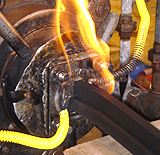 Wefco Rubber Mfg. Co., Inc. is proud to announce that we now offer custom color matching for all of our extrusion profiles.




read more