MILITARY GROMMETS MS-35489-#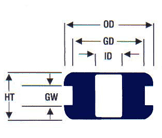 Military grommets are available in rubber material that is hot oil & coolant-resistant. Listed Below by increasing Inside Diameter (ID) are the military grommets that are considered stock items. Specification: MIL-G-3036

If your grommet is not in the MS number, call and we can cross the MS-35489 Series to the AN-931 (Army-Navy Standard Grommets) and also the MS-35490 (Military Standard Split Grommets).

Ordering grommets under these specifications should include a waiver of Samples Test required by revisions MIL-G-3036. Certifications must be requested at the time of order.
We do not charge for these certificates. If testing requirements are unusually strict, laboratory fees may apply.